Power Steering Stop Leak and Conditioner (G65)
Nulon Power Steering Stop Leak & Conditioner uses the latest seal rejuvenating and high performance anti-wear additives, including PTFE. It reduces and prevents messy oil leaks and premature wear to extend power steering component life. Compatible with most types of power steering fluid.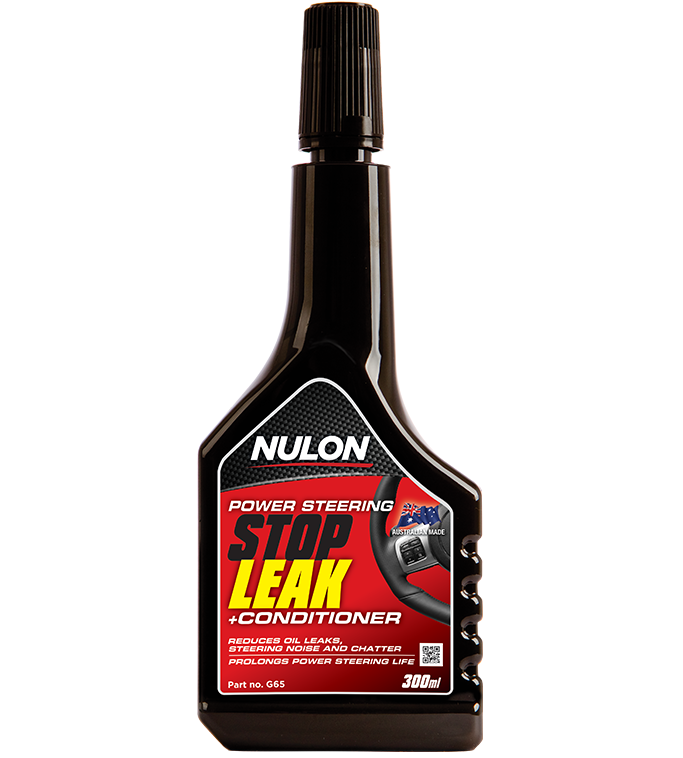 Reduces noise & steering chatter/shudder
Reduces leaks fast
Helps prevent seal damage & wear
Extends power steering component life
Rejuvenates worn & hardened seals
Add to power steering reservoir. Use 1 bottle for every 1.5 litres of power steering fluid . It may be necessary to drain fluid out of the power steering reservoir to enable the full contents of this bottle to be added.
NOTE: It may take up to 14 days or 500 km to achieve maximum benefits.
For advice, contact a Poisons Information Centre (Phone e.g. Australia 131 126; New Zealand 0800 764 766) or a doctor (at once).
Typical Properties
| | | |
| --- | --- | --- |
| Tests | ASTM | Nulon G65 |
| Colour | Visual | Red |
| Foam characteristics | D892 | Nil foam |
| Viscosity @ 40°C, cSt | D445 | 47.42 |
| Viscosity index | D2270 | 159 |
| Density, Kg/L | D1298 | 0.8842 |
| Pour point, ºC | D97 | -45 |
| Melting point of PTFE, ºC | D1457 | >325 |